1983 - While stationed at Ft. Campbell, KY as a member of the 101st Airborne Division, our founder and Head Brewer, Gary Brown, started to dabble with brewing beer at home.  He is the first to admit that it was about cheap alcohol and not quality in those early days.  It was during Gary's time in the Ft. Campbell area that a thought of someday opening a "cool" place called Boondocks was born.  This was also when Gary first started to "doodle" a character that would eventually become known as the "Boon Man".  

Fast forward to 2001 - The Bank in which Gary worked as Head of Information Technology was acquired by RBC (Royal Bank of Canada) and Gary took the role of Head of Technology Integration and Architecture for RBC US.  It was then that he began to travel to Toronto, Ontario and other parts of the US on a regular basis which opened up a new and exciting world of Craft Beer, quality food and world class service.
Fast forward to 2010 - Gary's passion for Craft Beer and customer service had become somewhat of an obsession and he became very involved in the North Carolina Craft Beer movement, becoming quick friends with a number of soon to be Brewery owners.  By this time Gary had honed is home brewing skills and started operating his home brewing out of a second home that he and his Wife owned in Rocky Mount, NC.  Gary then rekindled his idea of "Boondocks" and he started branding his home brewed beers as "Boondocks Brewing".  He also began focusing a lot of his time and attention to the Ashe County area where he and his wife's family had a vacation home.  Gary would actually transport Spring water from Creston, in Ashe County, back to Rocky Mount for brewing - he recalls, "there was just something about the naturally fresh and tasty water of the area that turned normal recipes into something special".
The following are some of the early branding ideas and beer labels that Gary began working on as the dream of Boondocks Brewing continued to develop.
As 2011 rolled around, the US franchise of RBC was acquired by PNC out of Pittsburgh.  Gary felt that this was a good time for him to move in a different direction so he became even more involved in the Craft Beer movement and in early 2012 Gary formed Boondocks Brewing, LLC and took early retirement from the Corporate world.  
Having had a vacation home in Ashe County since the mid-1990s Gary knew that he wanted to spend more time there and quickly fell in love with West Jefferson.  West Jefferson had been undergoing some very positive changes but something was still missing.  The town was still quite "sleepy", customer service seemed to take second seat, dining options were limited, many places closed early each day or had irregular hours and there was very little in the way of Craft Beer options in the area.  After talking with the owners of an existing restaurant, Frasers, in West Jefferson and doing a lot of soul searching, Gary purchased Frasers and on August 1, 2012 opened the doors as Boondocks Brewing Tap Room & Restaurant.
Frasers 2010 Commercial
Many of the people seen in this commercial are still either employed by Boondocks Brewing or are regular customers and loyal friends.  This was important to Gary as one of his main guiding principles was to not only create a cool destination that would bring visitors to the area but to also create a place that locals would frequent and would be proud to call their own
The following is a 2011 video posted by David Rush as he rode through downtown West Jefferson.  This short video provides a unique glimpse of West Jefferson as Gary saw it while trying to determine if this would be the future location of Boondocks Brewing.  This video also shows the two locations that are currently occupied by Boondocks Brewing.  The first location in this video is Geno's Restaurant.  In 2014 this was transformed into Boondocks Brewing's Brew Haus.  The second location is Frasers Restaurant which in 2012 was the original location of Boondocks Brewing.  You can also see the empty parking lot beside the building which in 2013 was converted into a 60' streetside covered outdoor dining area referred to as the Boon Deck.  The back portion of that parking area has also been transformed into a pet-friendly Beer Garden
August 1, 2012 – Boondocks Brewing opens in West Jefferson
On August 1, 2012 we officially opened the doors as Boondocks Brewing Tap Room & Restaurant.
Instead of having a big grand opening, we instead carefully crafted a transformation strategy that would allow us to respectfully transition from Frasers Restaurant into Boondocks Brewing Tap Room & Restaurant.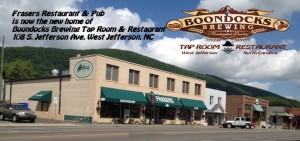 The following is the announcement that we did make.  We also made sure that everyone that came to visit us received a personal copy of our pledge to them.
We are excited to announce that Frasers Restaurant & Pub is in the process of transforming into Boondocks Brewing Tap Room & Restaurant
Boondocks Brewing Tap Room & Restaurant will provide a fresh and exciting destination for visitors and residents alike.  Our goal is to provide a unique and engaging destination that will not only attract new visitors to West Jefferson and Ashe County but will be a place that residents are proud to call their own.
Our transformation will happen gradually over the next 6 months and will include many changes to the way we do business.
You will begin to notice more energy and enthusiasm from the staff, more use of locally grown ingredients, more responsive service and an ever changing and expanding beer and wine selection.
We will continue to serve the same great food that Frasers is known for and we are working hard to develop a more focused and simplified menu that will feature many of your favorites using as many fresh and local grown ingredients when possible.
We will continue to provide high-quality evening dining by providing an evening menu that will highlight dinner only items and specials.
Our plan is to start brewing our own beer by the Summer of 2013 which will be available fresh in the tap room which will also feature the largest selection of Craft Beers in the area.
You will still find the same great people and great food that Frasers is known for
We will always strive to honor the past while embracing the future! 
The North Carolina Restaurant and Lodging Association picked up on our opening and published the following short article in their industry magazine.
In 2013 the North Carolina Department of Transportation published a video about the work that had been done in Downtown West Jefferson with the recently completed Streetscape project.  Gary and Boondocks Brewing were one of a few select West Jefferson businesses that were asked to participate in this video.  This video has since been seen around the Country as other small towns work towards reviving their downtown areas using West Jefferson as an example of what can be done.
Also in 2013 we were honored to be paid a visit by the NC Beer Guys and even more honored by their generous review of 2 of our in-house brewed beers.  Gary had only received all necessary permits to begin brewing Commercially just a few months prior to this review and was still operating on a single 10-gallon brew system.
In early 2014 Gary gave his first TV Interview in which he spoke about how Boondocks Brewing was started and some of the plans for the future.  Boondocks Brewing also created their first TV Commercial which ran throughout 2014 on Mountain TV
In Late 2014 Dave and Glenn from The NC Beer Guys paid Gary a visit at the New Brew Haus which was still undergoing rennovations.
Gary also found himself back in the Mountain TV Studio for a live interview in September 2014
In early 2015 a new TV Commercial was created to highlight the addition of the new Brew Haus location
Between April and June 2015 Gary was able to acquire and install a larger Brewing System to include several large Fermentation tanks.  During this time brewing capacity went from 1bbl (approve 30 gallons) to 3bbls per batch.  This was accomplished by installing a gas fired 3bbl brew system, 3 5bbl fermentation tanks, 1 3bbl fermentation tank and 1 3bbl brite/conditioning tank.
In July 2015 Boondocks Brewing was featured in a video produced by one of the area's top Real Estate companies.
In September 2015 The NC Beer Guys once again visited Boondocks and reviewed 3 of our beers
During the year Gary continued to look for more distinctive branding for the growing number of beers that were becoming popular both at the Restaurant and off the Mountain.  While reaching out to graphic artists across the Country, Gary was contacted by a talented graphics artists right around the corner in Statesville.  Brian Niblock at Graphics Galore sent Gary a couple of ideas and after a few email exchanges they arranged a face to face meeting in West Jefferson.  From there, the ideas and friendship took wings.
 The following are the graphics that were created in a few short weeks.  Others are currently in process and will be released in 2016.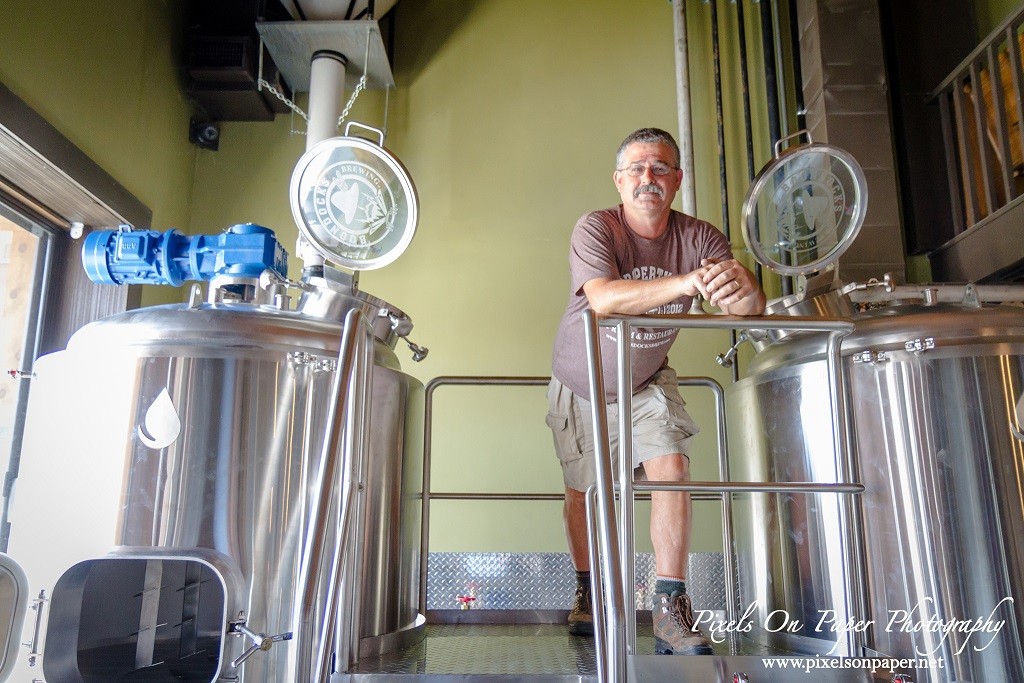 On August 1st, 2016 Boondocks Brewing celebrated it's 4th Anniversary and also officially brought online their new 5bbl Brewing system.
This new system had been in the planning stages since Gary and his wife Debbie purchased the property now known as the Brew Haus.
On Monday July 25th Gary and his Brew Haus team made the short trip to Charlotte, NC and loaded 2 trailers and trucks full of new equipment that had been custom manufactured specially for Boondocks and the space at the Brew Haus.  Prior to taking delivery of this new system Gary and his team along with the help of Jon Parker of Parker Electric and WC Rouse of Greensboro were hard at work putting critical infrastructure in place to support the new Brew System.  This included the installation of a new boiler to produce the steam required to heat the new system and electrical required to both run the boiler as well as the new control panel for the new Brew System.
By the end of the day Tuesday, the new Brew System was in the building and was being assembled.  The following week proved very productive and by end of day Monday August 1st, all systems were GO.
Check back later for more..........